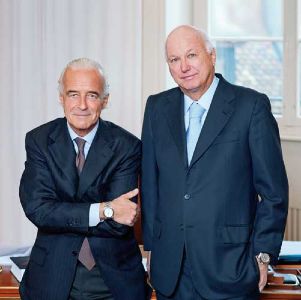 Two men. Ethics. One culture.
Bertrand Gros and Louis Waltenspühl, founders and Senior Partners of the Firm, have always carried out their activity, with the greatest respect for the ethical rules governing their profession.
These two charismatic figures, who possess solid experience, have developed, through their passion for the profession, a culture and a philosophy that they have made a point of passing on to the new generation of Partners and Associates who work at Gros & Waltenspühl.

Confidentiality. Long-lasting relationships.
Over the years, Gros & Waltenspühl has established long-lasting relationships with its clients.
Each client of Gros & Waltenspühl receives personal attention from one of the Firm's Partners, who will be able to provide tailor-made legal solutions to the client's needs and expectations.

Responsiveness. Efficiency.
A team of multilingual attorneys is at all times ready to respond to each client's requests, making sure personal and economic objectives are taken into consideration.
Through their professionalism and their comprehensive approach of each client's concerns, the attorneys at Gros & Waltenspühl are able to ensure successful results.